Regular price
Sale price
$17.00 USD
Unit price
per
Sale
Sold out
In stock
FREE Standard Shipping for CAN on orders over $25
High Quality Beeswax Wraps Hand Made in Canada by Three Huggers (3huggers) using all natural ingredients. This colorful set is inspired by the iconic bright red mushroom with white "warts" and a white underside.
Beeswax food wraps are a reusable alternative to plastic wrap and plastic bags. They have antimicrobial properties that help keep things clean, and their anti-fungal properties preventing the growth of yeasts and other fungi. Because of their breathability, these beeswax food wraps keeping vegetables, herbs, fruits and cheese fresh for longer.
The set includes: 
1 – 8″x8″ Small Wrap
1 – 10″x10″ Medium Wrap
1 – 12″x12″ Large Wrap
Lovingly hand made in Canada, Thunder Bay Ontario
Our FAQ section provides more information on useful tips on how to use and care for our Beeswax Wraps.
Dimension

Large 12 x 12" | Medium 10 x 10" | Small 8 x 8"
Material

100% Organic Cotton, Canadian Beeswax, Pine Resin, Jojoba Oil
Wash & Care

To wash, rinse or wipe with cool water using a small amount of mild dish soap if necessary. Hang to dry.
Beeswax will melt if exposed to heat. Do not use in ovens, microwaves, dishwashers, etc.

Do not use with meat or excessively wet items.

Beeswax Food Wraps may wrinkle and crack with time, but depending on care and use, these wraps can last up to a year. Once they are worn out, they can be composted or used as fire starters.
Shipping Information

CANADA

Items Eligible for Standard Letter Mail

We offer free Canada Post standard letter mail shipping for orders over $25.

| | | |
| --- | --- | --- |
|  Region | Free Shipping Limits (CAD $) | Flat Shipping Fee (CAD $) |
| Canada wide | $25 (before taxes) | $7 |

Items

 

NOT

 

Eligible for Standard Letter Mail

We offer FREE expedited shipping for orders over the free shipping limits. For orders under the limits, we charge a flat fee based on your location.

 Region
Free Shipping Limits (CAD $)
Flat Shipping Fee (CAD $)

British Columbia

$100 (before taxes)
$12

Rest of Canada

$125 

(before taxes)

$15

USA

We offer FREE expedited shipping for orders over CAD $125. For orders under the limit, shipping fee is calculated at the checkout.

| | | |
| --- | --- | --- |
|  Region | Free Shipping Limits (CAD $) | Flat Shipping Fee (CAD $) |
| USA | $125 (before taxes) | Calculated at check out |

The buyer is responsible for imports, taxes, and duties.
View full details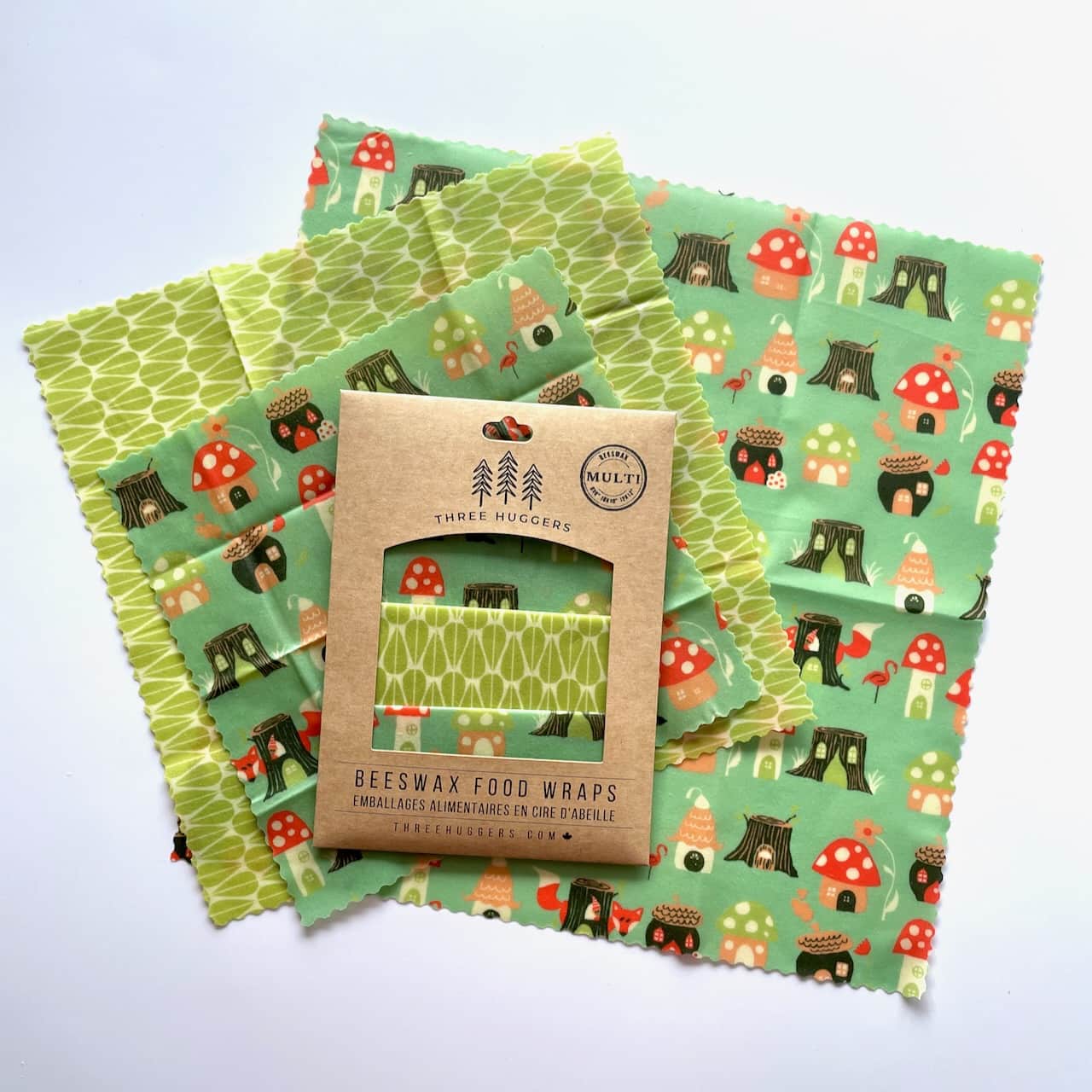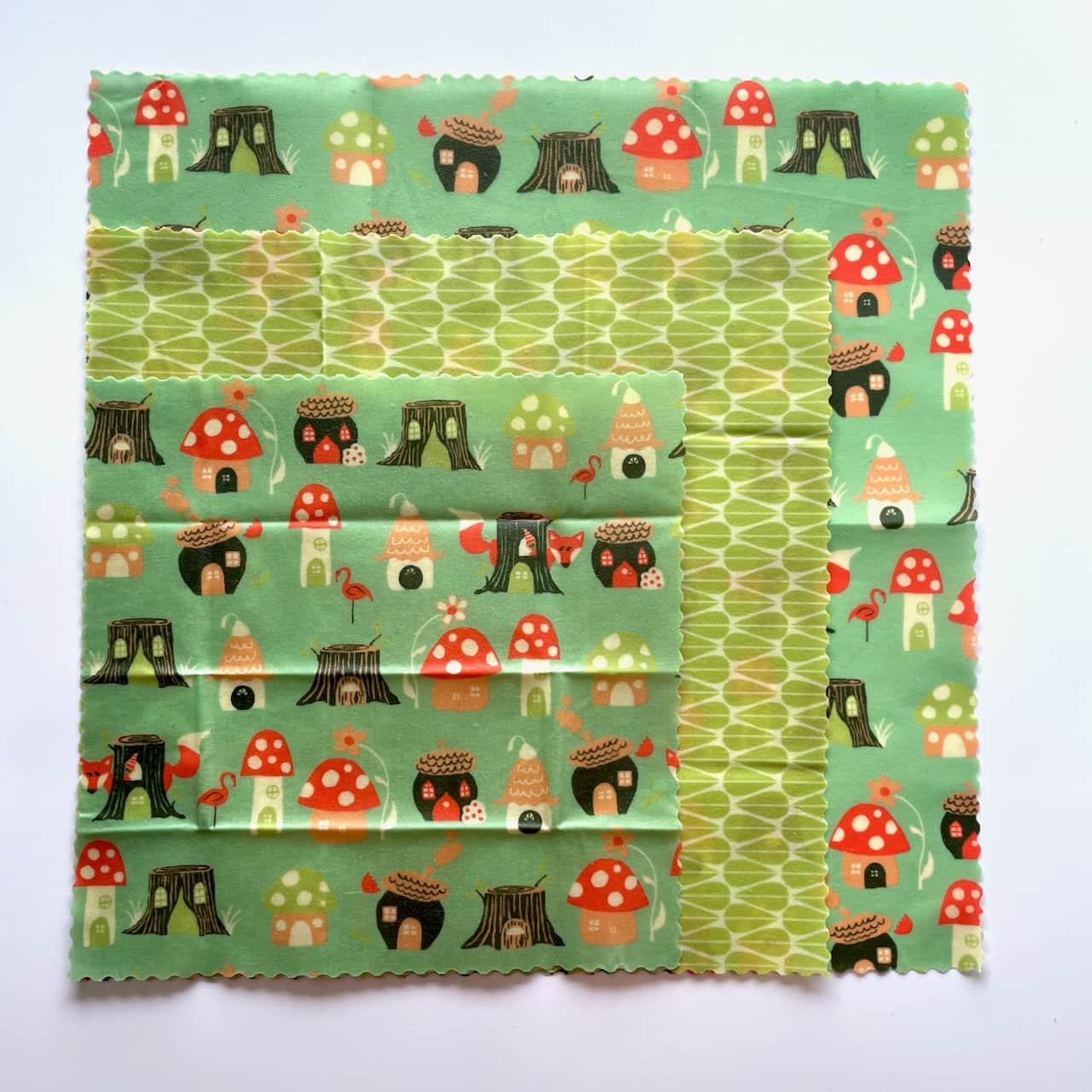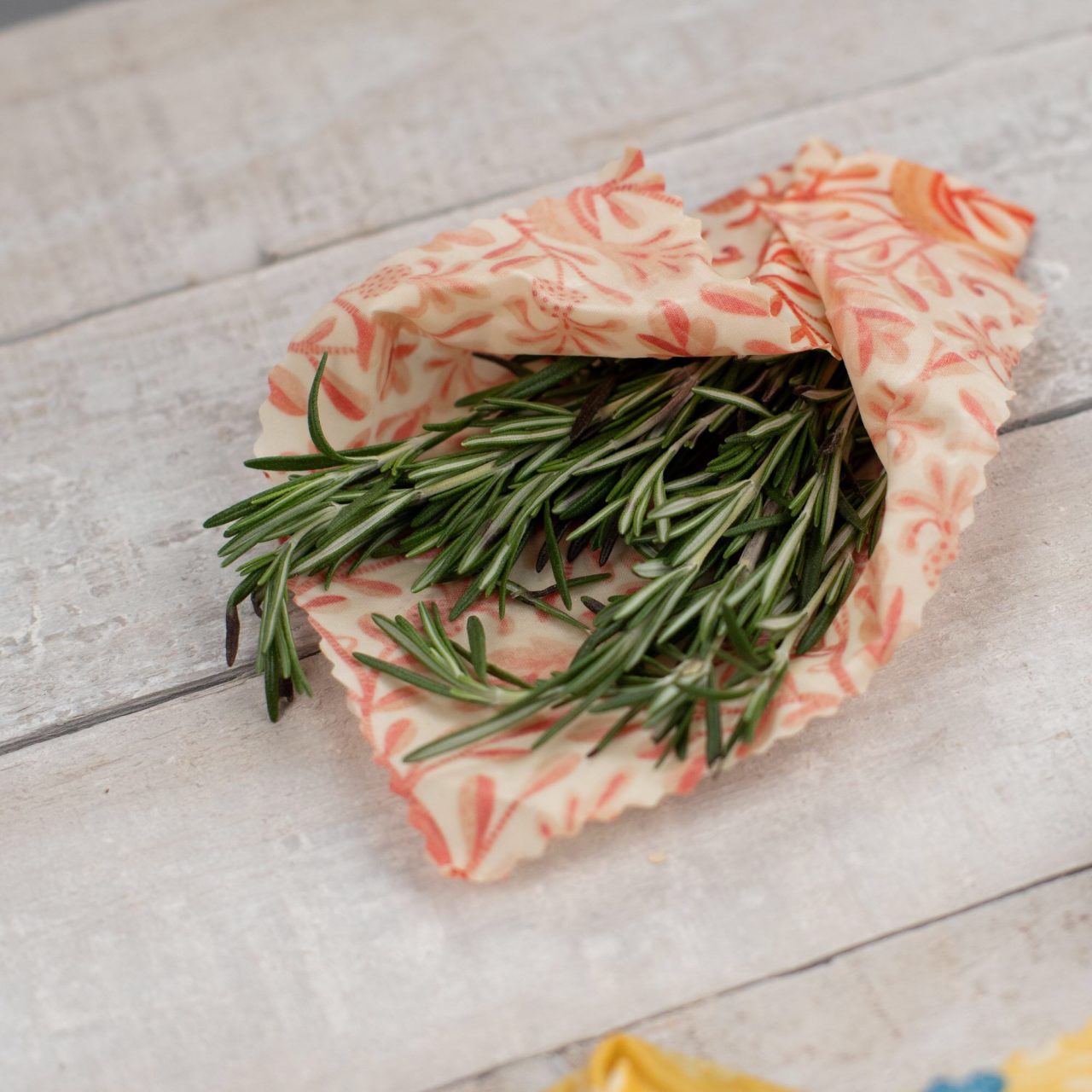 Browse Beeswax Multipacks
Beeswax Food Wrap
FAQs

What is beeswax food wrap?

Beeswax food wrap is an all natural, eco-friendly alternative to plastic wrap.

All our wraps are made by hand using 100% cotton, Canadian beeswax, tree rosin and jojoba oil.

Is beeswax wrap safe?

Unlike plastic wraps, which can release toxins when they come into contact with food, beeswax wrap is made from organic cotton and coated with beeswax, organic jojoba oil, and tree resin, all of which are food-safe materials. 

How do I use beeswax wrap?

In order to "activate" the wrap and to get it to be at it's prime "stickiness", we recommend using the heat of your hands in order to warm the wrap before you use it. This involves manoeuvring the wrap between your fingers and using the heat of your hands to press and help it stick to the edge of whatever surface you are trying to adhere it to.

Tip: Beeswax wraps stick best to themselves.

Although beeswax has naturally antimicrobial properties, we don't recommend them for use on raw meat.

Fruits, vegetables, sandwiches, snacks, and cheeses are all good.

How do I clean my beeswax wrap?

Rinse with cold water or wipe with cool, damp cloth. Use mild soap, if necessary.

Avoid hot water, as it will melt the beeswax. Hang or lay flat to dry.

How long will my beeswax wrap last?

Beeswax wraps can last a year or more if they are cared for properly. Use a beeswax refresh bar to refresh and extend the life of your old wraps significantly.